Rocket Baguette Rising Stars Saison 8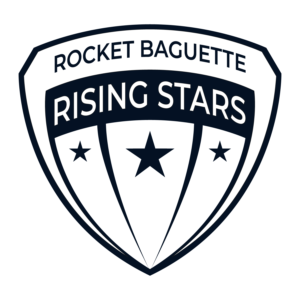 Faites chauffer vos fennecs, le plus grand championnat francophone de Rocket League revient ! Constituez votre équipe de 3 à 5 joueurs pour tenter de remporter votre Ligue !
Les équipes sont réparties dans des divisions de 8 ou 7 équipes, en fonction de leur niveau (MMR 2v2 et 3v3)
Chaque équipe dispute un BO5 par semaine en décidant du jour et de l'heure du match avec son adversaire (durée de 7 semaines)
Nouveauté : vous avez désormais deux semaines pour jouer vos matchs avant d'être pénalisés.
Toutes les équipes participent aux playoffs (bracket à élimination unique en BO7 sur 4 semaines). Deux brackets seront joués : le Championship, pour les 4 premiers de la division, et le Challengers, pour les 4 derniers de la division.
Il n'y a aura pas de Star League en cette saison 8. La plus haute division sera la Rising League.
Menus des ligues RBRS Saison 8
Fin des inscriptions : mercredi 30 mars, 23h59, heure française
Saison régulière :

Semaine 1 : du lundi 4 avril 00h00 au dimanche 10 avril 23h59
Semaine 2 : du lundi 11 avril 00h00 au dimanche 17 avril 23h59
Semaine 3 : du lundi 18 avril 00h00 au dimanche 24 avril 23h59
Semaine 4 : du lundi 25 avril 00h00 au dimanche 1er mai 23h59
Semaine 5 : du lundi 2 mai 00h00 au dimanche 8 mai 23h59
Semaine 6 : du lundi 9 mai 00h00 au dimanche 15 mai 23h59
Semaine 7 : du lundi 16 mai 00h00 au dimanche 22 mai 23h59
Semaine de pause / matchs en retard : lundi 23 mai au dimanche 29 mai

Playoffs :

Semaine 1 : du lundi 30 mai 00h00 au dimanche 5 juin 23h59
Semaine 2 : du lundi 6 juin 00h00 au dimanche 12 juin 23h59
Semaine 3 : du lundi 13 juin 00h00 au dimanche 20 juin 23h59
Semaine 4 : du lundi 20 juin 00h00 au dimanche 27 juin 23h59
Semaine 5 : du lundi 28 juin 00h00 au dimanche 3 juillet 23h59
Déroulement de la compétition
La compétition est organisée sur le discord Rocket Baguette. Un maximum de joueurs de chaque équipe doivent y être connectés.
Les deux capitaines / coachs / managers de chaque équipe doivent communiquer sur Discord pour organiser leur match hebdomadaire avec respect et bonne volonté sous la supervision de leur admin de division
Les joueurs doivent transmettre leurs résultats en chargeant les fichiers .REPLAY de leurs matchs dans le chan Discord dédié
En cas de manquement à ces obligations, des sanctions sont prévues :
Faute
Sanction
Plus de 48 heures sans réponse aux messages de l'admin ou capitaine / coach / manager adverse
1 joker
Match non joué dans le temps imparti
(avant le dimanche à 23h59 de la semaine suivante)
1 joker pour l'équipe jugée responsable par l'admin, ou 0,5 joker par équipe en cas de responsabilité partagée
Impossibilité de terminer une série entamée
1 joker
Retard de 15 minutes sur l'horaire prévu pour jouer une série
1 joker
Retard de 45 minutes sur l'horaire prévu pour jouer une série
1,5 jokers
Demande de report de la rencontre moins de 3 heures avant l'horaire prévu
1,5 jokers
Non présence à un match prévu
1,5 jokers
Match disputé avec un compte Steam / PSN / Xbox non enregistré
1,5 jokers (+ éventuellement rejouer le match)
Refus de jouer ou d'organiser un match
Exclusion
Cumul de 3 jokers
Exclusion
THIS TOURNAMENT IS IN NO WAY SPONSORED, ENDORSED, OR ADMINISTERED BY, OR OTHERWISE ASSOCIATED WITH, PSYONIX LLC. THE INFORMATION PLAYERS PROVIDE IN CONNECTION WITH THIS TOURNAMENT IS BEING PROVIDED TO TOURNAMENT ORGANIZER AND NOT TO PSYONIX LLC.